Great for display in your Welcome Center, entry way, or any high-traffic area in your school!
Powerful School-Wide Communication Tools
How effectively does your learning environment communicate behavior expectations to students, staff and parents? Our customized, targeted and professionally designed PBIS signage will deliver your behavior expectations out to every corner of your campus, while encouraging 100% teacher participation.
LARGE/MEDIUM – MATRIX DISPLAYS
& MATRIX TRAINING DISPLAYS
A 4x6'•$159.95•MTX-4X6
B 3x5'•$99.95•MTX-3X5
C 24x32"•$48.95•MTX-24X32
Move your PBIS matrix out of the handbook and into your campus in a big way! Use as both a teaching aid and an eye-catching informational wall-hanging for all to see.
*Printed on high-quality commercial flexible vinyl sign material
The Perfect Tool To Introduce & Reinforce PBIS At Parent Events!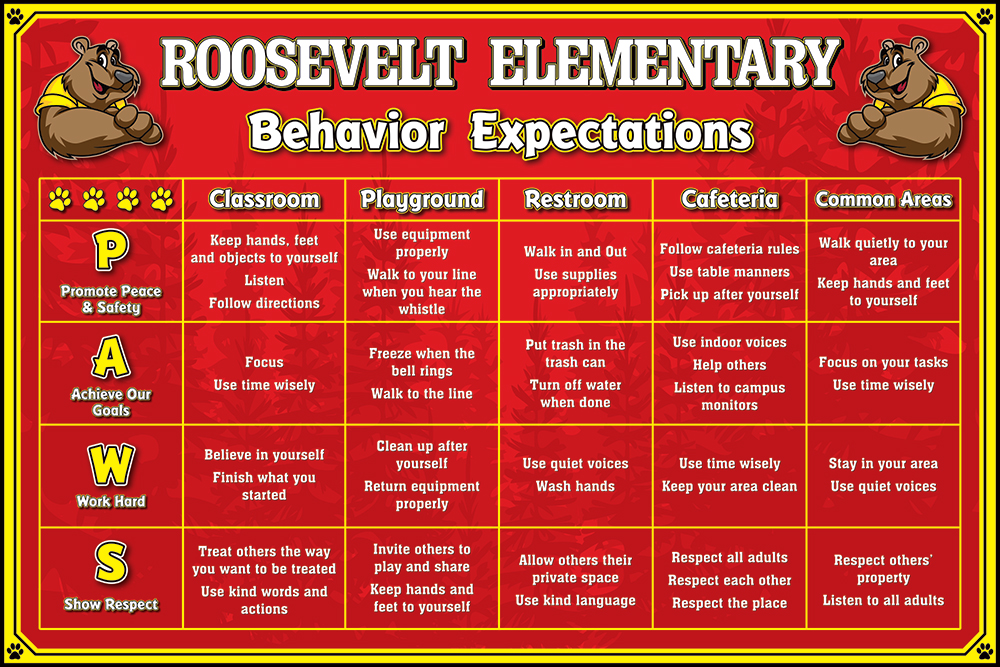 PROUDLY DISPLAY YOUR PBIS MATRIX!
Working with us is as easy as…
Email your school colors and mascot to pbis@pilpinc.com.

• Send your matrix as an editable Word, Excel, or PDF document.
• Choose the best quality files available for your logo or mascot—we prefer .ai, .eps, .svg, .pdf, or .psd files when possible. If your artwork is too low-resolution for quality printing, our professional designers can recreate it for you! (Additional fee may apply.)

Our designers will create a custom Look & Feel layout branding your school's PBIS program for your approval.

• Should your tiger mascot to be cute or fierce? Fun and playful typography, or maybe something a little more edgy? We'll match your Look & Feel to the tone and culture of your school, from elementary to high school!

Once you approve your new design, choose the right products and packages to fit your budget and school-wide messaging strategy.

• Select one of our featured PBIS Packages, or choose the customized, targeted signage that meets your school's unique needs.